U Shaped Silicone Hose is built for endurance and performance in custom coolant plumbing applications. Silicone rubber with 3-ply polyester reinforcement (4-ply on 51mm and larger sizes) makes these hoses tough, reliable, and flexible to temperatures from -50°C to +200°C. Multi-layered with quality fabric reinforcements. High quality handcrafted hoses. SUNRISE silicone hoses have a wide range of colors to choose from green, blue, purple, red, orange, yellow, black, etc. Each color has a smooth, shiny "wipe-down" finish.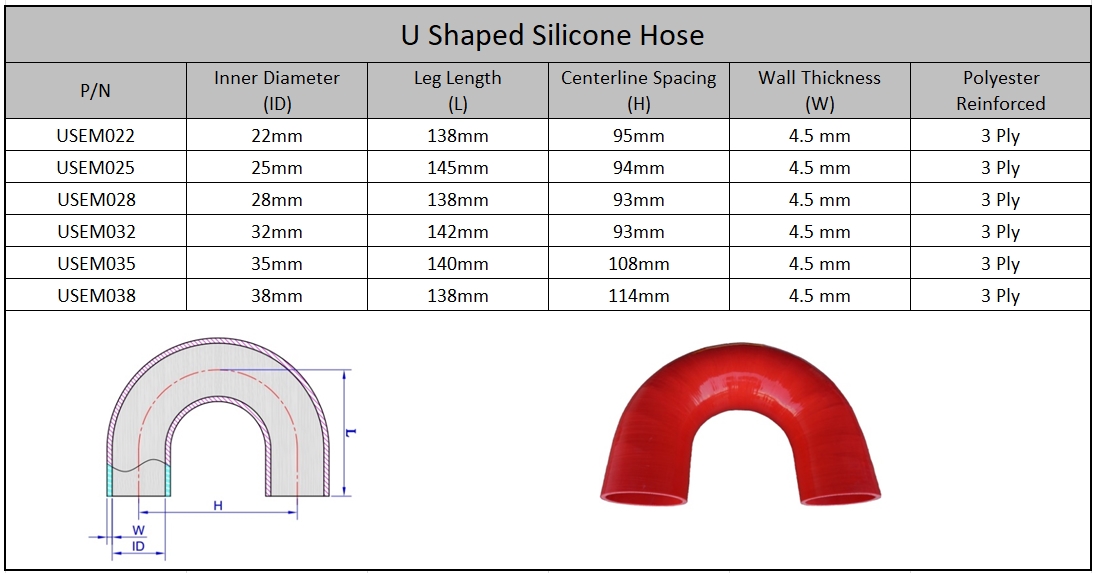 Above table shows standard U Shaped Silicone Hose. Acutally, hose size can be in metric size or inch size. The U bend silicone hose can be in a wide range of sizes, such as 6mm and 152mm. Please pay attention that U shaped silicone elbow can be used for water and air hose, but not suitable for oil or fuel. If you are looking for an oil-resistant or fuel-resistant silicone hose, please let us know before you place an order.
Please let us know if you need to custom U shape hose. U shaped hoses can be built from
- Fiberglass Reinforced
- Nomex Reinforced
- Fluororubber FKM Lined for contact with oil, fuel or chemicals
- Fluorosilicone FVMQ Lined for contact with oil, fuel or chemicals
- Wire Reinforced
- Fire Retardant Silicone Material
- Food Grade Silicone Material
Please note that any bespoke length, diameter, color, quantities can be made!
SUNRISE carries wide selection of colors, length, size and reinforcements. Custom U shaped silicone hose is available.We can produce suitable hoses according to your needs. We also have ability of duplicating hoses from your prototype.