SUNRISE 135 Degree Silicone Hose is manufactured with a formulated multi layered reinforced construction making them ideal for custom coolant plumbing applications. Silicone rubber with 3-ply polyester reinforcement (4-ply on 51mm and larger sizes) makes these hoses tough, reliable, and flexible to temperatures from -50°C to +200°C. Multi-layered with quality fabric reinforcements. High quality handcrafted hoses. SUNRISE 135 degree elbow hoses have a wide range of colors to choose from green, blue, purple, red, orange, yellow, black, etc. Each color has a smooth, shiny "wipe-down" finish.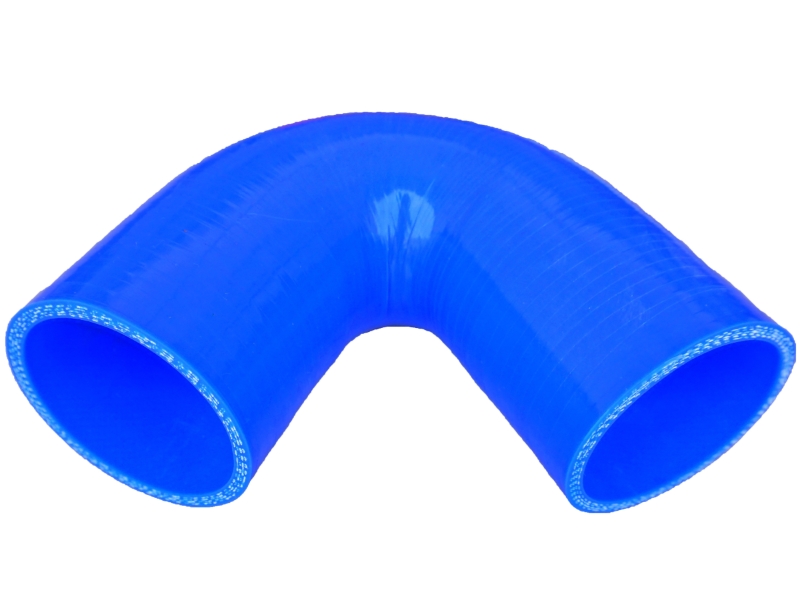 135 degree radiator hose can join your intake pipe to the throttle body assembly, air metering assembly, intercooler, or turbo inlet/outlet. It is suitable for pressure or suction applications, for example between turbocharger and intercooler or between turbocharger and air filter. Perfect for Intercooler and Turbo Charger installations plus custom Water Cooled systems. 135 degree silicone coupler are used extensively in all forms of Motorsport, trucks, recreational vehicles, Hill Climbing, Drifting, World Rally Cars WRC, Power Boats, Industrial Machinery etc.
Please let us know if you need to custom 135 degree silicone elbow. 135 degree elbow can be built from
- Fiberglass Reinforced
- Nomex Reinforced
- Fluororubber FKM Lined for contact with oil, fuel or chemicals
- Fluorosilicone FVMQ Lined for contact with oil, fuel or chemicals
- Wire Reinforced
- Fire Retardant Silicone Material
- Food Grade Silicone Material
Please note that any bespoke length, diameter, color, quantities can be made!
SUNRISE offer a wide range of 135 dgree silicone hoses, manufactured to an extremely high standard. We carries wide selection of colors, length, size and reinforcements. Custom 135 degree elbow hose is available. We can produce suitable hoses according to your needs. We also have ability of duplicating hoses from your prototype. Welcome to SUNRISE to custom 135 degree silicone elbow!